Our first (mini) hiatus is over and The Vampire Diaries has once more returned to our lives. Yay! Thanks to all for the link info, I watched it live streaming at 8:00 as opposed to the evil 11:30 I would have been forced to by my horrible, horrible CW affiliate. So thank you all. With that said... on with the episode. :)

I loved this episode. Like loved, loved, loved it like I love "Miss Mystic Falls." I love every single thing it chose to be. LOVE. LOVE. LOVE. No conflicts, no reservations, just LOVE. Lots and lots and lots of LOVE. Everything was perfection.

Like love, guys. Whoah!

First off, let's start with my single favorite moment from the entire episode --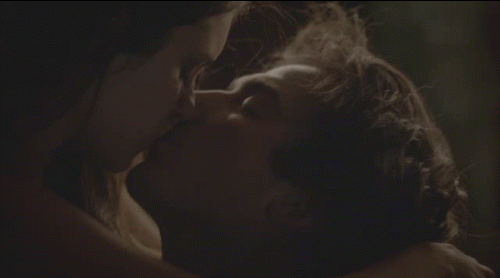 Spoiler: This is where we will end too. :)

Ahem, moving on. Alright, let's get the whole sire-bond thing out of the way. I'm sure that many a person is not happy about this. It ruins Damon/Elena, it takes away their first time, it sucks, blah, blah, blah. No to all of the above emphatically. Why? Several reasons --

To begin with, there were only two differences between the Elena we saw here and the Elena we saw in "Heart of Darkness." The first is that she can do the zoomy-vampire thing. The second is that this time she was not interrupted by her baby brother. :) That's it. The passion, the longing, the intensity, the emotion, the love -- yes, the love! -- that we saw on display here was exactly what we saw when she threw herself into Damon's arms... WHEN SHE WAS A HUMAN. I say often that one should never, ever listen to Julie Plec's interviews. I still maintain that. However, you can listen to some of her less-regulated, unplanned comments because those things that are on the vague side make a helluva lot of sense in retrospect every now and then. For example, before "The Departed," she was asked on twitter if what happened with Damon and Elena in "Heart of Darkness" mattered. She responded that it mattered plenty. My interpretation? It mattered plenty because of what happened in this episode. You can't look at that Elena then and this Elena now and not see the exact same kind of passion and want for Damon... EXACTLY THE SAME. Therefore, no, she's not having sex with him because she's sire bonded to him.

Do I think that a sire bond is in play here?* Yeah, probably, but not even remotely to the degree that Stefan is (desperately) hoping for and what Caroline is convinced of... because, well, they were wrong. They just grabbed things that they *thought* were facts (some so were not) that fit their theory. Damon told Elena that she could drink from him and that would work. It didn't because a few hours later Elena threw up his blood. And as far as we know, Stefan didn't know that. She called Damon, not Stefan. Damon didn't tell Elena she couldn't drink animal blood or blood bags -- in fact, he BROUGHT HER BLOOD BAGS -- he came up with a theory for why she couldn't hold down the animal blood, his blood or the blood bags. It wasn't a suggestion or an order. Which is what the sire bond entails.

* ETA: I'm at the point now where I think the sire bond is there and real but it's there and real ONLY because Damon and Elena love each other. When Julie said that they kept the hybrid stuff front and center for people to reference, I realized it wasn't so that people could remember it, but that so people could realize 'wait a minute! there are way too many differences here! it can't be what Stefan and Caroline are saying it is!' And, of course, Klaus would lead them to think otherwise because he knows that Damon doesn't care if Elena is human or vampire, but Stefan does.

Plus, I think it's interesting that the only mutual-love-siring we know of (Finn/Sage and Lexi/Lee) were incredibly strong and lasting. I mean Sage stayed true to her love for Finn even being without him for NINE HUNDRED YEARS! So I'm thinking that the sirebond is rare among vampires because it's really only when it's true love on both parts. Because, really, how many people would GENUINELY agree to DIE and LIVE FOREVER with someone else willingly? Only someone who truly loved. But to create the sire bond it probably has to be mutual. (Thus, no to Damon and Katherine, LOL!)

Also, nice, big, shining neon clue? Think of the last episode. The last thing that Damon told Elena was essentially that she and Stefan would work things out because Stefan was doing this for her. Next scene? Elena broke up with Stefan. (a) If Damon's suggestions influence Elena so deeply that she's dumping Stefan and riding on the Damon train because of this sire bond, why did Elena not patch things up with Stefan? (b) If Damon is aware of the sire bond -- which I highly, highly doubt -- then why wouldn't he have been, oh, pushing her to break up with Stefan and give him a shot? Uh huh. As far as Damon knows -- because DAMON SAID SO -- sire bonds among vampires is very, very rare. Therefore, no, he does not know. And, no, bonded or not, it doesn't have the very strong powerful pull that Caroline and Stefan are thinking it does.

Here's another one: In "The Five," Damon flat-out told Elena to compel the pretty blonde so that Elena could feed on her just like they practiced. Elena saw the picture of said pretty blonde's niece and didn't do what Damon told her to do. Think back to Tyler and Klaus. Klaus pretty much told Tyler to set up Jeremy -- someone Tyler considered a friend -- to die. Tyler couldn't ignore that suggestion even before he realized how the sire bond worked. Elena had no problem not doing what Damon told her to do for a complete stranger that she wouldn't even be hurting. Also, in this episode, Elena was the one who told Damon she wanted to dance with him, he didn't say it, he didn't even suggest it. That was all on her. And Damon has said and done nothing differently than he did when she was a human to pull Elena towards him. Girl's just got it bad for him and has since before she turned. Could the show have forgotten some of these details? Yeah, and bad on them if so, or maybe it's just not as complete as Stefan and Caroline are saying. Or even if they did forget some points, it still in no way takes away what Elena feels for Damon. Period. No way, no how.

Some like to claim that this show plays fast and loose with their supernatural rules. They don't. I help moderate a Vampire Diaries community and we do these Chronicles that include jotting down all supernatural rules for this universe. Not once have they contradicted a previously stated rule. Not once. They've added on, they've tweaked, but not changed it, not played fast and loose. So, back to my original point, do I think that a sire bond is coming into play? Yes, I certainly think it's possible, however, I just don't believe that it's done anything more than intensify the feelings that Elena already has for Damon. Period. She already wanted him. See "Heart of Darkness." She already was soothed and comforted by his words (re: Caroline's contention that Damon saying don't worry about Jeremy and Elena stopped worrying as proof) on multiple occasions. Did she like the red dress the same as he did? Yeah. Was she also flustered and this close to saying 'take me, Damon, take me now! Whatever you say!' Uh, yeah.

So, no, she's not with him because she's been sire bonded into it. She did not have sex with him because she's sire bonded. (After all, I don't recall Tyler going down on Klaus just because he was sire bonded to him.) This whole twist was brought up, I think, for Stefan and Elena fans ... and for Damon/Elena fans. Yeah, you read that right. I know, crazy!

Elena is NOT ready to be with Damon. She's not. Not only is she not ready, she shouldn't be with him yet. She needs to figure her shit out. She needs some me time. Some single time. Some non-Salvatore-boy time. She really does. To go straight from Stefan to Damon would be terrible for her and for Damon and for Stefan. Just no, no, no, no. But, but, but, but... we Damon/Elena fans have been waiting for over three years to get something. Come on! This does that trick. We get some pretty damn good Damon/Elena. We get some hot stuff. We get Damon/Elena sex. We get Damon being Elena's first vampire sexual partner. We get stuff like Elena following Damon down the stairs and being all googly-eyed at him. And telling him that the reason she broke up with Stefan was because of him -- "You." We get Damon's floored, flustered, tell me more, tell me more reaction. (And we get Professor Shane joining the cock-block-Damon-Salvatore club.)

We get moments and awesome stuffs with them that we wouldn't in-character believably otherwise get. Because she's not ready. Had they jumped into this without the siring giving her passion and love for him a boost, it would be longer before she'd take this step. So the sire-connection got us some good stuff. And hopefully -- because this is really what I hope -- beyond an episode or two, we get single-Elena. Damon steps back because he wants it to be real with them, 100% real and even if it's just magnified by the sire bond, he wants her to want him without an excuse. That's what I want too. And then move Damon and Elena into a real relationship towards the end of the season, early next season. :)

As for Stefan and Elena, if Elena and Damon just skipped off into happy-couple land with no twists, where does that leave the Stefan/Elena fans? I know, I know it sucks as a Damon/Elena fan because we want it to be our turn. But this is a product and all buyers have to be accounted for. Throughout the first couple of seasons there were a lot of Stefan/Elena fans who were not happy with Damon's continual presence in the Stefan/Elena story. And the Damon/Elena fan response was 'well, what do you expect? The show is built on a triangle. A TRIANGLE. You need three people.' Same thing applies. Stefan can't just be cut out, not now, not this far from the end. So this sire bond angle gives him and the fanbase hope... while the show continues to build this connection and foundation of awesomeness between Damon and Elena. That now is a way lot more physical. :waggles eyebrows suggestively:

Win-win is how I see it. As a Damon/Elena fan would I have preferred that we at least got the Stefan/Caroline scene and then the full non-intercut Damon/Elena scene? Sure. But as a Vampire Diaries fan, I loved it. It was perfectly done, perfect juxtaposition and just kicked ass. Building up with what Caroline is saying to what Elena is doing and leaving the viewers either screaming with joy, anguish or both! (I was all about the joy personally.) And it ended on this --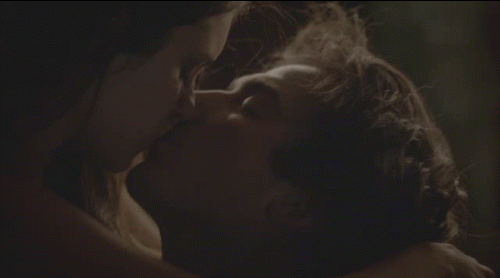 Which I really, really, really loved. So hot, yet so sweet... so sensual, yet so sexual all at the same time. Ah, sheer perfection.

But more on that later. So yes, the sire bond is likely in play, but it doesn't even remotely mean that what Damon and Elena share isn't real. It doesn't take away from which that is real either, Stefan and Caroline just desperately hope that is the case. They are wrong. Or rather, not so much wrong so much as... not quite as we (or Stefan and Caroline) know it at this point. After all a vampire-vampire sire bond developed through love has got to be different from a hybrid-hybrid sire bond developed through the wolfy-factor. I think the connection that Elena feels with Damon is driven by her already-there feelings for him and that the bond was formed mostly because of that, and because of it, yes, his suggestions do hold sway but not at all like Stefan and Caroline think. Because, again, there were a lot little things that Damon didn't suggest or that he did that didn't come to pass.

Now I know that there are many none too pleased with Caroline right now. I'm totally fine with her because she might as well have been holding anvils in her scenes with Elena. Seriously. She was going on and on about how terrible and awful Damon is, and how revolting the idea was that Elena wanted to be with him... TO KLAUS. While she is laughing and smiling and having moments and drinking champagne with KLAUS. Who killed Jenna. Who kills lots and lots and lots of people. Who is a bad guy.

Which he said to her. (That legit cracked me up.) In the middle of Caroline's all ranting about Damon, Klaus actually pointed out he's the bad guy. For reals. Yes, he has a sweeter, softer side to him... which Caroline sees. Just as Elena sees with Damon. There is no way that that was not deliberate, Caroline is being the biggest hypocrite right now, but lordy, away from Tyler, she was more fun and enjoyable to me than she's been in forever. Ugh. See, I get why she hates Damon. I'm fine with her hating Damon. I'm fine with her rah-rah-rahing Stefan. Because she doesn't know what's going on. She has her history with Damon. Elena doesn't really tell her what's happening (bad) with Stefan and (good) with Damon. Stefan tells Caroline his white-washed versions of events. So that is Caroline's very skewed point of view. Bad Damon. No real information from Elena. White-washing from Stefan. I get it.

Ahhhh! This episode was about SO MUCH SHOW as opposed to TELL, it was glorious. While we have Caroline go on about how bad Damon is and how awesome Stefan is, that's juxtaposed with the Jeremy situation. They need a hunter to find the cure so Stefan selfishly goes behind all their backs again, kills and turns (admittedly) a murderer and then goads and all but forces Jeremy to kill said turned vampire thus messing up the poor kid even more. Damon's solution? Go to the go-to-know-how guy to get the name of one of the four OTHER hunters so that Jeremy doesn't get more affected than he already has. So we hear 'Damon bad, Stefan good.' We see Stefan bad, Damon good.

We hear 'Elena has changed, Elena needs to be fixed, Elena's not the same' (except for my beloved Matty, but more on him later). We see the same Elena we've seen for the past three plus years. We see the same girl who loves her brother, who can laugh with her friends, who has compassion for those around her, who has a good heart, a determined will. We see Elena Gilbert. And she is awesome. She just happens to be owning up to her feelings for Damon. That's the difference. And that's why Caroline can't recognize her because she can't understand an Elena who could have true, genuine feelings for Damon because all Caroline sees is mostly a Damon who's snarky, sarcastic, jerky and appears to not give a damn about anyone, and who treated her terribly. And that's why Stefan thinks she needs to be fixed because the Elena he knew, the Elena he loved could control whatever feelings she had for Damon. She always chose him over Damon. He didn't see the Elena who was with Damon when he was gone. He only saw the distance there between Damon and Elena upon his return.

And he has convinced himself that he is right because after all Elena chose him, didn't she? But really, I still don't think she did. I still think that Elena was going to choose Damon. Her words to Matt about being with Stefan because she should be with him because he makes her feel safe and isn't that what love should be versus Damon consumes me made that pretty clear. Her reaction to his kiss versus her reaction to Damon's kiss made that pretty clear. However, fate had other plans. She didn't choose Stefan to be with, she chose to say goodbye to Stefan because of the crazy circumstances when that was going to be it. Once they lived and she turned, she very well couldn't go back on her 'choice,' besides she needed that safety more than ever. So she was with Stefan, but what she saw was that they no longer work. But it's simply easier to blame the vampire-turn, and that works for Stefan too because he doesn't really know what Elena feels for Damon, and how deeply. He has no clue that the depth of her feelings that he's seen recently were there before she was turned. So he blames the vampirism, he needs to blame that.

But there comes that unspoken bit from last week. If Elena's feelings for Damon magnified as a vampire, why didn't her feelings for him magnify as well? He didn't want to deal with that part of that process, but now he can ... now he has an explanation. Aha! She's sire-bonded to Damon! AHA! So Stefan gets hope and the Stefan/Elena fanbase retains hope as well. Which I totally get.

And this brings me to what I realized over the summer about this show. It's not an episode arc, or a multiple-episode arc or a seasonal arc. It is a series-arc. And as each episode plays out, everything that happened in season 03 (including Stefan's ripper arc) is making more and more sense. Stefan needs to hit rock bottom in order to start to see the best in himself -- not the projection of what he should be, but who he truly is. We didn't get that last season, but we needed what happened last season to happen to get him to where he is now... which is what eventually (I think) will lead him to where he needs to go.

Last season basically showed the viewers just how bad Stefan could be in real time, but he -- and everyone else -- justified his actions by blaming them on Klaus. Never mind what he did to Andie, or choosing to keep his switch off and setting Jeremy up for potential death, kidnapping/threatening Elena. And that was the point. It was done in the mix of the Klaus-stuff so it could kinda be fanwanked away. But we as viewers *saw* Stefan do those things... of his own volition, but it wasn't pointed out. I think now it was because that was a hint of what was coming.

Now we have "good" Stefan... and he's not doing good things. We are seeing Saint Stefan do bad, bad things. And that's important for Stefan. Because Stefan is never going to change, is never going to accept who and what he really is until he accepts that the Ripper is a part of who he is. He needs to take the blame for his actions on his own shoulders; he needs to accept that he does these things, that he has this in him... just as Stefan. He's not there, but we're beginning to see the cracks. And I love it... even as I wanted Stefan to die in a fire (even though, you know I love you, boo!) for doing what he did to Jeremy. My poor bb, Jeremy!

I feel for him so hard, and I'm so, so glad that he has Matt. Matt who is the epitome of awesome. Who has become the human-version of Damon in that he is the voice of reason, he is the hero. He is the awesome. Dear lord, how did Matt Donovan become such an incredibly, OMG!I love him so much!?? character? I do not know, but he did and he is and I HEART HIM SO HARD! And, yeah, Matt? Totally a voice of reason alongside Damon. While everyone else (but Damon, of course!) is saying that Elena is different, Elena needs to be fixed, blah, blah, blah, Matt is saying she is still Elena. She is still your sister. She is *still* Elena. Yup, Matty, she sure is. And you know it, boo!

And, aww, Matt and April! (What is it with this show and multi-shipping and me? I seriously NEVER do that, but on this show, aside from Damon/Elena, I multi-ship like nobody's business -- Caroline/Stefan, Caroline/Klaus, Stefan/Rebekah, Stefan/Katherine, Rebekah/Matt, Matt/April! SERIOUSLY!) I loved that he stepped in her for her just as Damon did for Elena -- proving that, yes, one day Matt will be Damon's new BFF. Uh huh! Yeah, I like April (even though she totes won due to pity votes) and she appreciates (a) the hotness of Damon, and (b) the awesome of Matt. She has a crush on him which is adorable, and I'm cool with them playing with these two... until Rebekah comes back. And invariably turns on the one person she tried to genuinely befriend. Oh, Rebekah. Klaus, everyone knows now, pretty, pretty please undagger your sister. Please. :)

Speaking of Klaus, so he and Caroline. Look, I know I talked above about how Klaus is the bad guy and Caroline is totally a hypocrite for being all fine and dandy with him (because she may say a few words to the opposite of that, but they are so just words), while being terrible about Damon, but... damn, they got some sparkly chemistry there going. Every second with them just completely shows how sorely lacking in romantic chemistry that Candice Accola and Michael Trevino are. So, yeah, I loved the Klaus/Caroline scenes. I love that even though Klaus is TEH EVUL, he still does have the mushy side that Caroline totally brings out. And I still heartily believe that eventually someone is going to point out the obvious Damon/Elena, Klaus/Caroline parallels and girl is going to be gobsmacked and owe Elena some major apologies.

Phew, OK, some randoms --

- So, yeah, Stefan actually told Elena she needs to be fixed... because she's not that into him anymore. Cuz, yeah, that was before his sire bonding (pfft!) epiphany. Oh, Stefan. Stefan, Stefan, Stefan... what am I going to do with you, my darling boy?

- I know, continue to squee and ship you so hard with Caroline. Even when you guys are being delusional together, I still adore you which says a lot about how much I love these two. And I totally dug that the episode opened and closed with them to a degree. I do think Klaus and Caroline are intriguing and have chemistry, and are loads better than Caroline and Tyler, but Caroline and Stefan? So my secondary OTP on this show SO HARD.

- Gabby Douglas! I was so happy to see her used exactly as I hoped. Just there, not taking away anything from the scene/episode. Good. :)

- I love the Hayley/Professor Shane twist, but damn, does Phoebe Tonkin have to episode in and out prove to me that she really is a sucky actress? *sigh* She was the only negative in an otherwise flawless episode, but she's not terrible. She's just not that good. I can live with just not that good.

- On the other hand, man, I am LOVING me some of David Alpay's Professor Atticus Shane. Great actor, good-looking, great chemistry with Ian Somerhalder. Intriguing character played by layered actor. LOVE! Best casting they've done since Claire Holt as Rebekah, methinks! :)

- I liked them going back to the Bennett witchy line.

- I have no words for how much I ADORED Elena telling Stefan that if the price of her gaining her humanity back is Jeremy losing his it's too high. SO AWESOME. I bow down to you, Elena, my glorious queen!

- A few Damon/Elena yummies ... I love how when Elena indicates a preference for dancing Damon just holds out his hand... unlike Stefan who practically makes her beg every damn time.

- Also, the blue dress. SO MANY FEELS ABOUT THAT. First of all, I love the look on Elena's face when Damon points out that she wore blue. The fact that he remembered it clearly gave her a little buzz which helped infuse the 'take me, Damon, take me now! Whatever you say!' feelings she was feeling. Secondly, the blue dress is the "safe" choice. BWAHAHAHA! Could it have been any more obvious that the red dress was Damon and the blue dress was Stefan? And then Caroline labeled the blue dress as safe. BWAHAHAHAHAHAHA! Loves. :D

- Two songs played over significant Damon/Elena scenes. The first was the song (Laura Veirs – "Little Deschutes") that played during the Miss Mystic Falls dance which featured those loaded looks between Damon and Elena. The lyrics:
It sure is hard to dance across
The room when you've got
One foot on the floor
And one foot outside the door

I want nothing more
Than to dance with you

The peace I've known, floating along
The deep green river with you and a song
Is something like the peace I hope
To make with you my whole life long

I want nothing more
Than to float with you

Paddling through the hail storm
Clothes ravaged, the leaves all torn
A part of me was born

Why care about yesterday's haze
When the stars above are all ablaze
Why care about the coming dawn
When the moon pours now searchlight strong

I want nothing more
Than to dance with you
I want nothing more
Than to float with you
With the key line being heard "I want nothing more than to dance with you." Uh huh. The second (Ed Sheeran's "Kiss Me") was of course during the love scene. Now, it played over the Stefan and Caroline scenes as well, but the sound was muted in their scenes. The lyrics:
Settle down with me
Cover me up
Cuddle me in

Lie down with me
And hold me in your arms

And your heart's against my chest, your lips pressed in my neck
I'm falling for your eyes, but they don't know me yet
And with a feeling I'll forget, I'm in love now

Kiss me like you wanna be loved
You wanna be loved
You wanna be loved
This feels like falling in love
Falling in love
We're falling in love

Settle down with me
And I'll be your safety
You'll be my lady

I was made to keep your body warm
But I'm cold as the wind blows so hold me in your arms

Oh no
My heart's against your chest, your lips pressed in my neck
I'm falling for your eyes, but they don't know me yet
And with this feeling I'll forget, I'm in love now

Kiss me like you wanna be loved
You wanna be loved
You wanna be loved
This feels like falling in love
Falling in love
We're falling in love

Yeah I've been feeling everything
From hate to love
From love to lust
From lust to truth
I guess that's how I know you
So I hold you close to help you give it up

So kiss me like you wanna be loved
You wanna be loved
You wanna be loved
This feels like falling in love
Falling in love
We're falling in love

Kiss me like you wanna be loved
You wanna be loved
You wanna be loved
This feels like falling in love
Falling in love
We're falling in love
Yeah, so the first song is about giving up the fight and accepting that you want to love the one you love. The second is about two people who are friends who finally decide to admit they love one another and take that plunge (per the songwriter, Sheeran, himself). So yeah. There's that. :D

- OK, some sex scene-age discussion. That was hot. Even interjected with Caroline and Stefan's little theory, it was hot, hot, hot... and sweet, sweet, sweet. In terms of the actual sex scene, I got exactly what I wanted which was some of the sexual heat and spice of the Damon/Katherine make-out (ala "The Return") and some of the sweet loving of the (oh so tame) Stefan/Elena scene. They were both there along with a solid heaping of burning hot chemistry. Again, hot, hot, hot, sweet, sweet, sweet... awesome.

And huzzah! I called it. I knew it, I knew it, I knew it! I knew that big ole bed of Damon's was waiting for Damon/Elena sexytiems. Damon has gotten down with four different women since that bed was first introduced and while we saw Rebekah sleeping in it (and Rose lying while dying in it), we never saw Damon getting freaky with any of them in the bed. Nope the sex was on the couch, against the wall, in the shower, but not in that bed. Nope, it was being saved for sexytiems with Elena. HUZZAH! And behold! Sexytiems with Elena! Whee! Here are some Damon/Elena gifs! Enjoy! To start it off outside of the bed but with a lovely spin into a kiss... then things got a bit more heated, hehehehe.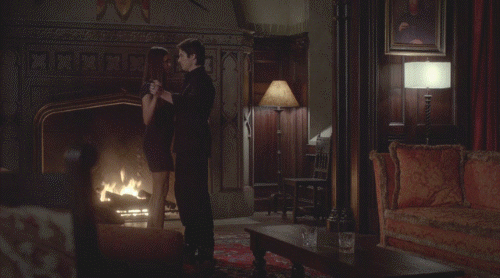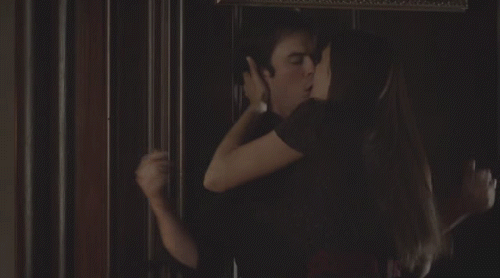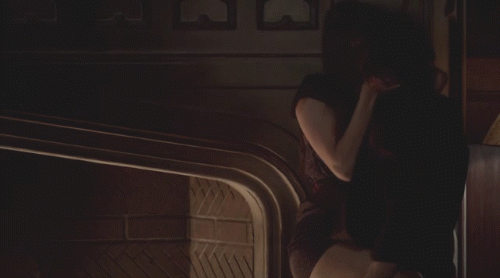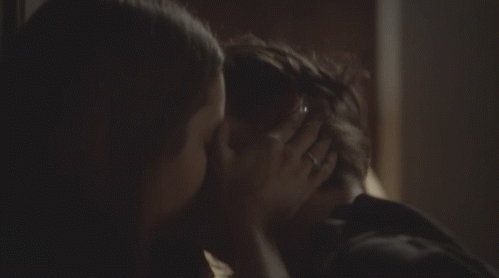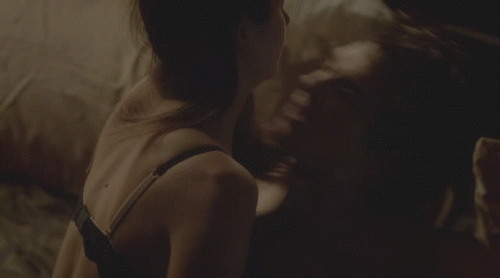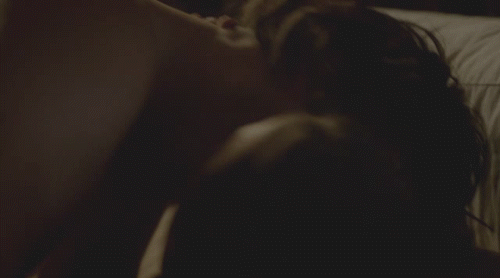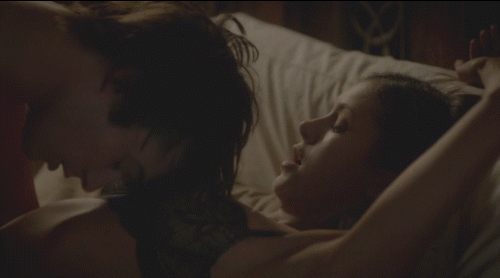 Oh, didja notice in that second to last one? See that look of pure joy on Elena's face in the middle of uber-hot sexytiems!? Uh huh! Once more for the road... whee!

- I know that some are upset and think that this ruins the first time Damon and Elena have sex. I don't think this is the case at all. I keep thinking of how Damon kissing Elena, but wait! it's actually Katherine supposedly ruined their first real kiss. And it didn't. Nor did the first actual kiss being on his death-bed, a kiss that was more of a gift given due to his impending death as opposed to mutual desire to kiss, take away from when Damon kissed her on the porch just because he wanted to and he knew that she wanted it too. Just as that soft, reserved kiss took nothing away from their first, passionate kiss freely, undeniably given from Elena to Damon without inhibition in Denver.

Every kiss they have shared has been a series of firsts because they haven't yet settled down into a relationship where they kiss just because they can. Right now, still, every kiss is different and awesome in its own right. The same will be the same for when they first make love without the supposed sire bond hanging over their heads. It will just be another first with a different charge of significance.

And on that note, I want to end this not only where I began, but where Damon and Elena began and ended in each other's arms. I adored the opportunity to see Elena and Damon as we did here, sharing a slow dance with that look of contentment on Elena's face that was just beautiful. And lastly the final shot of the episode, the two of them once more in a much more intimate embrace sharing that sexy, sensual kiss. *sigh*