My thoughts on the (main) Emmy nominations (well, main to me) with my picks of who I think will win, should win, sentimental favorite (ie, I don't think they should win, but I love them so) and should have been nominated (damnit!).
Outstanding Drama Series
Boardwalk EmpireDexterFriday Night LightsGame of ThronesThe Good WifeMad Men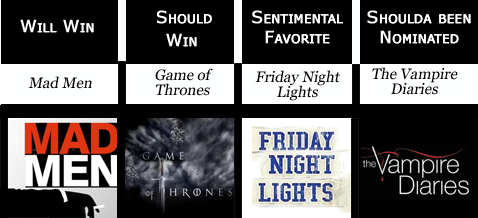 I tried
Mad Men
three times, I got as far as episode 9 the third try and then I just gave up. Sorry, television critics everywhere, it bores me silly. :shrugs: However, it apparently had a banner season, so I won't bet against it. I do think that
Game of Thrones
has a chance, and I really hope it wins, but I'm not holding my breath. It was magnificently done. So very, very good. If
The Good Wife
wins, I'd be cool with that too as I think it's one of the better Big 3 network shows.
Dexter
was consistently good, but not its best season, still I wouldn't be upset by a win. For
Friday Night Lights
either, even though it's not my
#1
pick, it went out on a wonderful grace note and was criminally ignored its first season -- for which I do think it deserved to win.
SHOULDA BEEN NOMINATED:
The Vampire Diaries
. Hah! like I'd pick anything else. I just think that the writing, characterization, familial relationships, friendships, etc. are interwoven so beautifully amidst the teenage angst, the love stories, the town and its history, the supernatural crazy. The acting, writing, directing, pacing, all of it, I love it so much. But of course, it's a teenage-vampire show on the CW, so of course it's not worthy of a nomination. More realistic pick:
Justified
, damn, this show is amazing!
Outstanding Comedy Series
The Big Bang TheoryGleeModern FamilyThe OfficeParks and Recreation30 Rock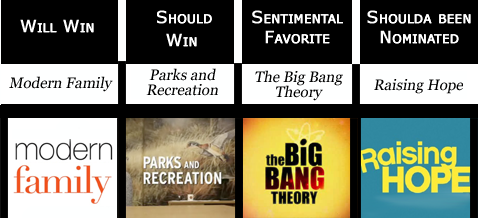 Like with
Mad Men
, I've tried
Modern Family
a few times and it just doesn't appeal to me. If I'm on episode 8, and I've only chuckled a few times? This is not a comedy for me. However, everyone else and their dog adores it, so yeah, expecting another win here. The
Glee
nomination is a joke (seriously, there was no pun intended, only a re-read of this revealed it, hah). It's not a comedy; it's not a drama. It's a dramedy. Just create that category, there are definitely enough of those now. With that said, it doesn't deserve the nom in any category because it pretty much sucked this season. Yeah. I enjoyed
The Office
and
30 Rock
, but they've had better years. I could see TO maybe getting the nod because of Carrell's last year, but if they are going for that, it will be giving him the award. I still love
The Big Bang Theory
, and find it absolutely hilarious, but the insistence on pushing the horrible Penny/Leonard pairing just knocks it out of contention for me.
Raising Hope
is non-stop, goofy, hilarious humor, shoulda been nommed. But even if it had, I'd still give the win to
Parks & Recreation
. Perfection. Funny, sweet and awesome.
Outstanding Actress in a Drama
Kathy Bates,
Harry's Law
Connie Britton, F
riday Night Lights
Mireille Enos,
The Killing
Mariska Hargitay,
Law and Order: SVU
Julianna Margulies,
The Good Wife
Elisabeth Moss,
Mad Men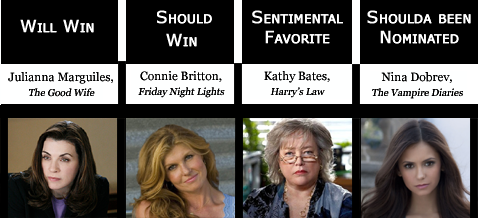 I won't be bummed if Margulies wins because she did some outstanding work, but Connie Britton has never been anything less than heartrendingly, jaw-droppingly brilliant and so amazingly REAL as Tami Taylor for five years. If anyone deserves recognition, she damn well does! Of the remainder, I'm aware of all of them, but I only watch
Harry's Law
, and so my sentimental favorite goes to Bates. As for who should have been nominated? Nina Fucking Dobrev. I'm just going to quote my review from a TVD episode (in which I referenced the idiocy of the Emmys no doubt not acknowledging her):
Seriously, it sucks royally that this girl is NOT getting more notice for the amazing job she's doing. If the Emmys actually meant something, Nina Dobrev's name should damn well be etched on one come September. I only realized while writing this really just how amazing she was because I didn't think of the fact while watching the episode that I was watching one actress play Elena, present-day Katherine in the tomb, 1490 human, birthin' Katherine, and 1492 human, scared and on the run, but still selfishly thinking on her feet Katherine, because all portrayals were so seamless, it didn't *feel* like the same actress at all. Nina is just kicking so much ass here, there are no words.
She's taken the token, good girl heroine and given her depth; plus, she's created a completely different character to the point that it truly feels like it's two different actresses playing the role. Nina Dobrev is amazing!
Outstanding Supporting Actress In A Drama
Kelly Macdonald,
Boardwalk Empire
Archie Panjabi,
The Good Wife
Christine Baranski,
The Good Wife
Margo Martindale,
Justified
Michelle Forbes,
The Killing
Christina Hendricks,
Mad Men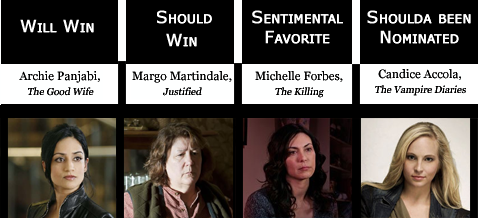 This is the strongest category overall, in my opinion. I honestly think that Archie Panjabi and Michelle Forbes deserve a win as well, I just think that overall, thematically and from beginning to end, Margo Martindale knocked it so out of the park. To be fair, I got bored with
The Killing
pretty quickly and Forbes easily could have taken that slot for those reasons had I finished the season. (I've been a fan of the actress since her days in the early 90's on
Guiding Light
, and she's never been anything less than outstanding in any role.) I can say easily that if any of those three actresses win, or even Christine Baranski -- whom I adore (and, aw hell, I love Christina Hendricks, but I don't watch
Mad Men
), I'll be happy. I didn't get past the first episode of
Boardwalk Empire
, so Macdonald may deserve it too. Based on what I did see of her, she was excellent.
SHOULDA BEEN NOMINATED:
Candice Accola
has shown such nuance. She has been believable and wonderful in both comedy, drama, normal teenage-angst, crazy supernatural drama, imbuing all of Caroline's relationships with realism, heartbreak and joy, be it boyfriends (both past, present and potential future), friendships (both secure and shaky), and family -- her scenes with Caroline's mother were heartbreaking and beautifully played.
Outstanding Actor in a Drama
Steve Buscemi,
Boardwalk Empire
Kyle Chandler,
Friday Night Lights
Michael C. Hall,
Dexter
John Hamm,
Mad Men
Hugh Laurie,
House
Timothy Olyphant,
Justified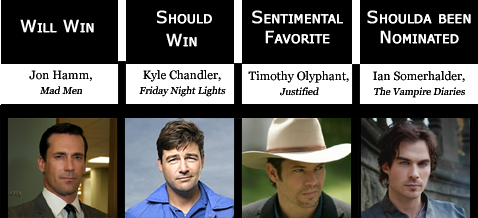 I've heard nothing but Hamm praise, and this may be his year based on buzz. Don't watch the show, so I don't care. Like with Connie Britton, Kyle Chandler has been criminally ignored of any Emmy acknowledgement before now, and he damn well deserved it before, and damn straight deserves the win tonight. He's just so freaking amazing. And if he weren't nominated, I'd be picking Timothy Olyphant here because he's also amazing, and I love him soooooooooo much. His performance in
Justified
has been revelatory for me. He was just kinda there in
Deadwood
for me, here, it's just like WOW! I gave up on
House
years ago, but if he wins, I'm sure Hugh Laurie deserves it. Michael C. Hall pretty much never doesn't deserve it, and Steve Buscemi is a wonderful actor -- I just couldn't get into
Boardwalk Empire
. So, this is a very strong field. I still would have loved to see Ian Somerhalder get a nomination. I know, HAH! He was consistently fabulous, and he had a couple of episodes where his acting was showcased so beautifully, and he delivered one of the single best scenes of acting I've ever seen. He deserved a nomination, but yeah, teenage-vampire drama on the CW, yeah right.
Outstanding Supporting Actor in a Drama
Peter Dinklage,
Game of Thrones
Josh Charles,
The Good Wife
Alan Cumming,
The Good Wife
Walton Goggins,
Justified
John Slattery,
Mad Men
Andrew Braugher,
Men of a Certain Age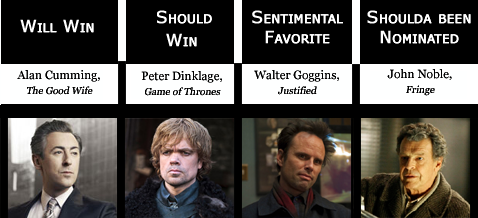 How the hell do they keep not nominating John Noble?!?! He should have a couple of these by now! God! He's just so, so good, so heartbreaking, so wonderful. As for who is nominated: I know I said that Cumming will win over Dinklage, but I could have just as easily switched those two because I do think both have a great shot and both deserve it. I went with Cumming simply because
Game of Thrones
is a fantasy show, and
The Good Wife
is Emmy-bait. I'm thrilled that Walton Goggins got a nomination because, like the above two, he deserved it. If he somehow pulls off a win, I wouldn't be upset. Heck, if Josh Charles, John Slattery or Andrew Brraugher won, I won't be upset either. All are worthy, worthy nominations. But, Noble should have been nominated. Damnit!
Outstanding Actress in a Comedy
Edie Falco,
Nurse Jackie
Tina Fey,
30 Rock
Laura Linney,
The Big C
Melissa McCarthy,
Mike & Molly
Martha Plimpton,
Raising Hope
Amy Poehler,
Parks and Recreation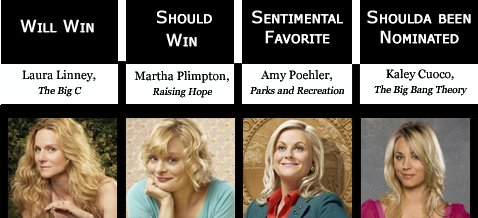 (WHEE! Look at all the blondes!)
Laura Linney is my pick based on media articles, but I could see Melissa McCarthy getting it (if only due to
Bridesmaids
love), Edie Falco repeating (because the Academy ADORES her), and Amy Poehler (because, damnit!, it's about time). Tina Fey seems to have fallen off of the critical-love radar, but they've been known to throw a curve ball, and it's not like she's not fantastic. Martha Plimpton took a role that could have been annoying, crass and just a horrible cliche and made Virginia, warm, loving, sometimes wise/sometimes foolish, and all around awesome ... okay, she's still a bit crass.
SHOULD HAVE BEEN NOMINATED:
Kaley Cuoco
may likely always be so underestimated and it's just not fair -- I know, I know, the Emmys are not about fairness. She has tremendous comic timing and fantastic delivery, plus she's managed to make Penny a helluva lot more than a pair of boobs and no last name despite the writing of Penny as such most of the time. (Yes, I love the show, but I'm wildly aware of its flaws.)
Outstanding Supporting Actress In A Comedy
Jane Lynch,
Glee
Betty White,
Hot In Cleveland
Julie Bowen,
Modern Family
Sofia Vergara,
Modern Family
Kristen Wiig,
Saturday Night Live
Jane Krakowski,
30 Rock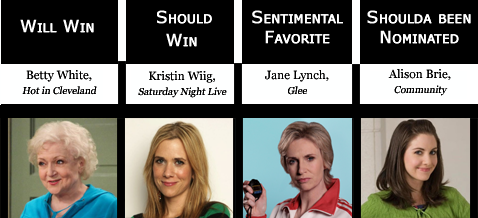 Honestly, I just said Betty White because, well, she's Betty White, but with
Bridesmaids
, I easily could see Wiig taking it because of the success of that film. And she deserves it for her work. There's a reason she's the first person whose broken out on SNL in a long time; she's brilliant. I don't watch
Modern Family
, but the work I've seen the actresses in other stuff has never impressed me. Krakowski is good, but she's always rubbed me the wrong way. I don't dislike her necessarily, I just don't really like her all that much. And Jane Lynch is, well, Jane Lynch. It's not her fault her show sucks mostly and the best thing about season 1 (her character) was written horribly in season 2.
SHOULDA BEEN NOMINATED: That
Alison Brie
wasn't nominated last year or this year is a travesty. She's utterly brilliant, and you'd think that since the Academy is soooo in love with
Mad Men
, they'd see her mad range (she's Trudi on that show) and nominate her for that alone.
Outstanding Actor in a Comedy
Alec Baldwin,
30 Rock
Louis C.K.,
Louie
Steve Carrell,
The Office
Johnny Galecki,
The Big Bang Theory
Matt LeBlanc,
Episodes
Jim Parsons,
The Big Bang Theory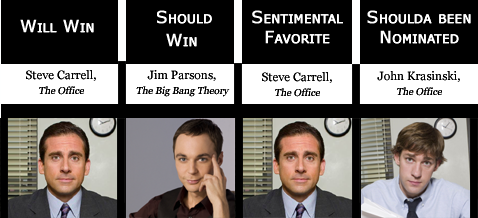 If Steve Carrell wins, I won't be even the least bit disappointed because he deserves it for playing Michael Scott so perfectly for the last seven years, but my heart is just owned by the brilliance of Jim Parsons so I pretty much always think he should win. On the other hand, I don't think that Galecki should have even been nominated. Of the cast (including Parsons), I think that he's the least worthy, his Leonard is a caricature way too often, cliched and without enough undercurrents of vulnerability to make him work that well for me as a character. (If they wanted to nominate someone else from the show, I would have loved to see Kaley Cuoco finally get some due, and Simon Helberg or Kunal Nayar get supporting noms.) Alec Baldwin is brilliant. If he wins, it's not that he doesn't deserve it, I just prefer Parsons and Carrell. I haven't watched
Episodes
, and I didn't like
Louie
, but the actor was fabulous when he guested on
Parks and Recreation
in a recurring storyline, so no complaints there.
SHOULDA BEEN NOMINATED: I'm honestly surprised that
John Krasinski
has yet to get a nomination. He's consistently pretty dang awesome and even when Jim is written somewhat jerkily at times, Krasinski still sells the character and the motivation. Maybe with Carrell gone the Academy will finally notice him.
Outstanding Supporting Actor In A Comedy
Chris Colfer,
Glee
Jesse Tyler Ferguson,
Modern Family
Ed O'Neill,
Modern Family
Eric Stonestreet,
Modern Family
Ty Burrell,
Modern Family
Jon Cryer,
Two and a Half Men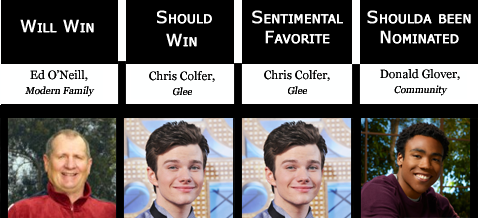 I don't watch
Modern Family
(I tried twice, got to episode 8 and still barely laughed), so none of those do it for me, however because of all the brouhaha over O'Neill not even being nominated last year, I'm picking him for that alone, but it could be any of those four from that show, or Colfer who did win the Golden Globe. Colfer is not who I would give this too -- his story was much more dramatic than comedic -- but of the choices, I'd go with him. And yes, I have him under sentimental favorite which should be for who I don't think should win, but I still adore. However, no one else nominated is even remotely a favorite of mine, and I do love him, so ...
SHOULDA BEEN NOMINATED: There are other actors who definitely should have been on this list (Simon Helberg,
The Big Bang Theory
, Garett Dillahunt,
Raising Hope
, Adam Scott,
Parks and Recreation
-- NEXT YEAR, BB!, Nick Offerman, also of P&R, Danny Pudi,
Community
, to name a few), but I'm going with Pudi's castmate,
Donald Glover
(of
Community
). His Troy was a slow burn for me, but over the course of season two, this guy continued to be amazing in every scene, so hysterical, awesome line delivery, facial expressions, background stuffies, basically EVERYTHING. Gah, just reading over the list of actors who could have made the list, it makes the current nominations even that much more depressing. Hell, I didn't even mention Neil Patrick Harris and Jason Segel (of
How I Met Your Mother
). Come on, Academy! I know you mostly suck, but COME ON! Four actors from the same show, one from an awful, tired show and one from a show that's barely a comedy, and for which his best work wasn't even comedic?