Day 19 - A pairing you've rooted for since the beginning?

Jack and Jennifer Deveraux (Matthew Ashford and Melissa Reeves), Days of Our Lives

I tried to be fair with this and not count couples that I stumbled on at some point into their story, or couples that I were pre-disposed to look out for. Instead, I only looked at couples whose story I happened to see from the actual beginning and liked upon their first interaction. And, surprisingly, I could only think of one. So many other couples I love, I came in after they'd started, or I saw their spark/chemistry as the show progressed even if they weren't the intended couple. The pairing for me in this category is Jack and Jennifer from Days of Our Lives.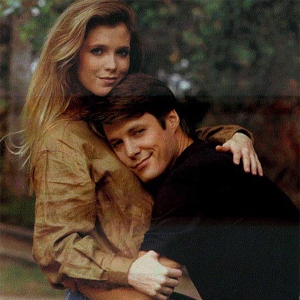 I remember not liking Jennifer at all even though I'd been watching her on the show for a few years. I did, however, like Jack and had already shipped him with someone (Melissa, if anyone's curious, LOL!). Then Jennifer's main love interest, Frankie, left the show along with his portrayer, and the show had to set up a new story/love interest for her. And in that interim, they threw her into a filler story, interning as a reporter at "The Spectator," the town newspaper owned and edited by Jack Deveraux. Again, it was supposed to be filler, but many viewers, including myself, saw this special something between the two actors immediately. And that was the beginning of what became one of the soaps' most beloved couples of all time. I still have fond memories of the duo. They were fantastic, and no matter what stupid crap the show threw at them (and continue to do so), when they're onscreen together, they continue to be fabulous.

Past Days ...

Day 01 - What is your current favorite ship?
Day 02 - What was your very first ship?
Day 03 - A pairing that needs to happen now?
Day 04 - The pairing with the most chemistry?
Day 05 - The pairing with the least chemistry?
Day 06 - Best kiss?
Day 07 - The most heartbreaking scene?
Day 08 - The pairing with the most baggage?
Day 09 - The most believable relationship?
Day 10 - The least believable relationship?
Day 11 - Your dream pairing?
Day 12 - Who had the best wedding?
Day 13 - Your favorite television pairing?
Day 14 - What is your favorite book pairing?
Day 15 - What is your favorite real life pairing?
Day 16 - What is the absolute worst pairing?
Day 17 - A pairing you thought would never work out, but did?
Day 18 - What is the cutest pairing?