I wanted to do a little write-up (really, there's very little text, I swear!) on my ten favorite episodes of
The Vampire Diaries
with an image that best represents that episode for me included. I finally got around to doing it during my days off.
01)
"Miss Mystic Falls"
(Season 01, Episode 19)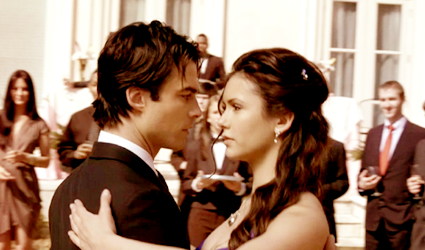 Yes, the Damon/Elena interactions (especially the dance and final scene) were key in listing this episode, but this episode is so much more with every character showcased in strong ways. We had Stefan falling apart, the return of Bonnie and the effect Gram's death had on her, Jeremy dealing with his new information, Caroline's well-deserved win, Damon stepping up for both Elena and Stefan, as well as the mystery of Uncle John beginning to be revealed. This episode has heart (of both the warming and breaking kind), heat, and a dash of humor. Perfection from beginning to end.
02)
"Fool Me Once"
(Season 01, Episode 14)
This episode was not only the culmination (in many ways) of what the previous episodes had been building up to, it also opened the door for a whole slew of things that came in the episodes to follow. Along with giving us more insight into Damon (delving into the emotional complexities of his relationships with not only Katherine, but Stefan, Elena and his father). There was also the heartbreaking death of Grams (the only moment as of yet to make me tear up), contrasting with the reunion of Anna and Pearl. All of this, plus it also set up threads for upcoming arcs beautifully.
03)
"The Return"
(Season 02, Episode 01)
Expectations were high after the explosive season finale, but the second season premiere not only met expectations, it exceeded them beyond imagination. With a strong wrap-up of the cliffhangers, quick movement of stories, a literally jaw-dropping final ten minutes, and fantastic performances (especially from Ian Somerhalder and Nina Dobrev), this episode was outstanding by any measure.
04)
"Let the Right One In"
(Season 01, Episode 17)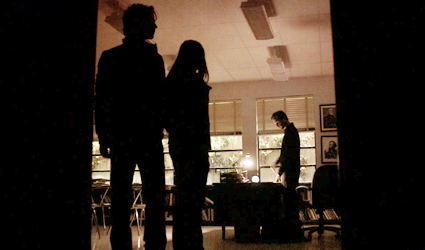 Although this episode ends on the most depressing note(s) of any episode -- everyone is utterly miserable at the end -- it is one of the best. Unexpected finds (Vicki!), unexpected teamwork (Damon and Alaric!), brotherly love, heartache and heartbreak, what happened in this episode introduced many key factors that played a large part in the final five episodes, and did so beautifully.
05)
"Masquerade"
(Season 02, Episode 07)
As fantastic as the pacing is in general, it was absolutely masterful in this episode. The editing, cutting, build-up, although mostly talk, created a thrill of excitement that carried throughout. Of course, there was also some nifty action, some great character moments (from Damon, Caroline and Bonnie, especially touching), as well as a long-awaited cathartic release. Bottom-line, this episode hit on all cylinders. And Nina Dobrev was absolutely a-maz-ing!
06)
"Children of the Damned"
(Season 01, Episode 13)
I know that "Lost Girls" is the flashback episode that most seem to pick, but I prefer this one for several reasons. The obvious being that it's from Damon's perspective, but I also think that Nina had a better handle on differentiating Katherine and Elena by this episode, as well the modern-day story (the trio "teamwork," Alaric being slowly drawn in to the story, dinner with Damon) was stronger.
07)
"Isobel"
(Season 01, Episode 21)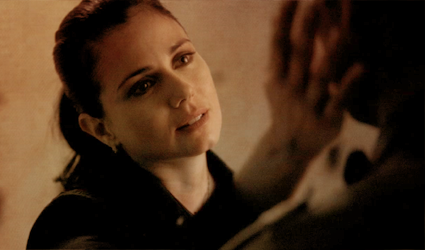 There had been quite some build-up for Isobel, as both Elena's mother, Alaric's wife, and her vague connections with John and Katherine. As usual, the show did a wonderful job in casting, and presenting vampire-Isobel, cold and uncaring as ice, with a last-minute reveal of the soul buried deep. There was also reparation to the Elena/Bonnie friendship, some great Damon/Alaric moments and my single favorite line in the entire series (thus far) courtesy of Damon and a twist to a well-known saying.
08)
"Under Control"
(Season 01, Episode 18)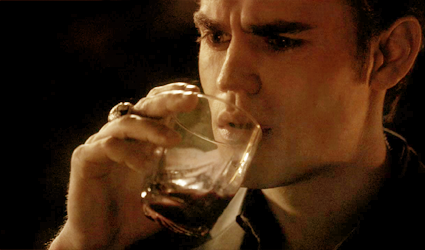 I do adore the Damon/Elena scenes (especially the teddy bear and him giving her the rose), but there's also Stefan's growing addiction, the Damon/Liz interaction, the overthrow of John, Damon and Alaric tag-teaming, and best of all, the Damon/Stefan stuff, from the mocking at the top of the episode to the sincere offering at the end. I love it.
09)
"Haunted"
(Season 01, Episode 07)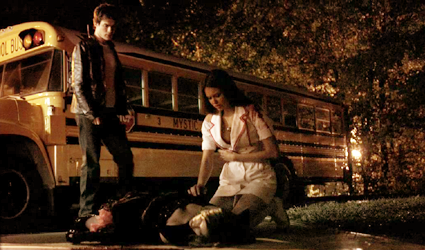 It was in this episode that the stakes truly began to rise in the series and we began to get the full measure of just how amazing
The Vampire Diaries
could be. We also got the full glimpse of how unpredictable it could be. As well, the bond between Damon and Elena began to truly blossom here.
10)
"Founder's Day"
(Season 01, Episode 22)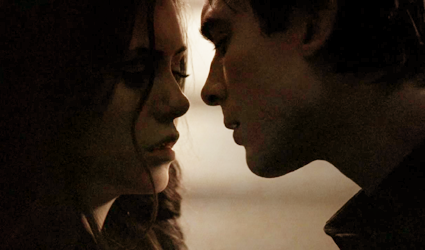 What started out as a vague-
Twilight
-esque teen drama tailor-made for the CW ended its season as it quickly showed itself to be: An intelligent, compelling, funny, sexy, superbly-acted, directed, and written fantastic hour of television week after week. The finale offered up cliffhangers galore, a long-awaited kiss, character deaths and near-deaths, and a character reveal that promised magnificent insanity in the season to come.