I'm so disappointed that Eastwick is getting practically ignored by the press and promoted not that highly by ABC because it really is quite adorable. I genuinely love all of the characters -- even played by actresses I've never been particularly fond of (including all three leads!); the setting is charming and quaint, but not in an overkill manner. Some real stories are being told amidst the witchy good and the characterization and relationships (so many different types -- new friends, old friends, older/younger, mother/daughter, romance beginning, ending, somewhere stuck between) are so deftly handled. Four episodes in and I'm enjoying it as much as the premiere.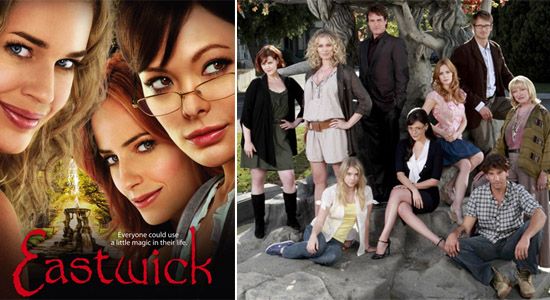 First, the show's premise: Adaptation of the book/film The Witches of Eastwick, in which three women discover their powers as they find themselves drawn to a wealthy, charismatic and mysterious stranger.

The characters: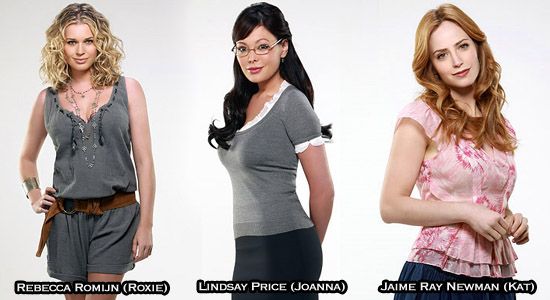 * Rebecca Romijn as Roxie Torcoletti - (The blonde) She has a teeny bit more of a lead role than the other two witches, but just barely. I'm not the biggest fan of Romijn; I don't dislike her, but she's never done anything for me as an actress. Until now; she's perfectly cast as Roxie. There's a warm, experienced, earthy quality about her. She's an old soul, a free spirit, who's bogged down a bit by the realities of life, and her own disappointment but she still maintains a humorous outlook on the whole thing. Her relationship with her daughter is lovely and refreshing, her romance with her now-boyfriend, Chad, is charming. And even though he's not a regular cast member, Chad is -- like all of the characters -- real and three-dimensional. Instead of just being the young stud, the older, experienced, gorgeous woman is sexing up, he's not a throw-away joke, he's just as "real" as the regular cast.

* Lindsay Price as Joanna Frankel - (The bespectacled brunette) Again, not an actress I'm generally impressed with, but I love Joanna. I love her diarrhea of the mouth, and her insecurity and inquisitiveness. I love how she's still a bundle of nerves and neuroses despite gaining some strong self-confidence in the premiere episode. She's still the same character we met in the premiere, she just has a growing strength about her now. And I ADORE her relationship with best friend, Penny. The "Like a Virgin" riff from a few episode back was so ridiculously charming and SO REAL. There are so many little moments like this one between these two that could come straight out of real life. And I love how they go off on tangent about other entertainment-related things (Stakeout, for instance). It's just so real.

* Jaime Ray Newman as Kat Gardener - (The redhead) Once upon a time I could NOT stand this actress. She was terrible on General Hospital, terrible in other things I saw her in and then got involved in a fandom of mine in a horrible way. Ugh. So on my IHATEHER list, and then time passed, she all but disappeared before showing up on the third season of Veronica Mars. I didn't like her, but for the first time I didn't hate her. And I saw her pop up in guest-starring roles here and there, and didn't dislike her anymore, just was rather meh. Still, she was the main reason I was initially had no intention of watching this show (Romijn and Price just added to the do-not-watch list), but then I randomly decided to give it a shot. I'm not sure why, but I did. And lo and behold! not only do I not hate, dislike or am meh on Newman in this, I love her! Her Kat is my favorite character. I love Kat, I love how Newman plays her. I love her relationship with Roxie and Joanna, the struggles in her marriage and how deftly it's playing out. She's sweet, and funny. There is a small-town innocence about her as the only one of the trio who grew up in Eastwick. Love her.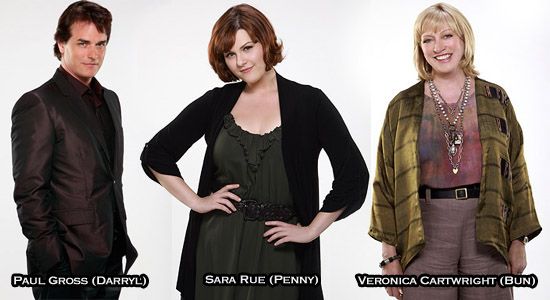 * Paul Gross as Darryl Van Horne - He's good, but while I know that he's a lure for many who *are* watching this, I'm not completely sold on him, but I like him more with each passing episode. It's not that he's no Jack Nicholson, it's that he doesn't have the level of charisma that I think is necessary for this role, erm, ala Nicholson.

* Sara Rue as Penny Higgins - Love her. Will always love her. I've loved her in EVERYTHING I've ever watched her in. My only complaint is that we don't see more of her, but I love everything we get. I love her friendship with Joanna, I love the realism of her character (again, those little pop-culture references between them and how they play out are so true to life). I, of course, love how Rue plays her because Sara Rue is AWESOME! I also love the little reveal at the end of the most recent episode that she's got something going on with whatever the hell is going on with Jaime. Hmm .....

* Veronica Cartwright as Bun Waverly - She was Felicia in the movie version, and while her Bun is a different characer, but she's still fabulous. The first scene of the series featuring her was so beautifully done, it is what sold me on the show as a keeper from the get-go. And seeing the different type of relationship she had with Kat (as a nurse) and the respectful relationship that she had (may have again -- Bun lost her memory) with Roxie is marvelous.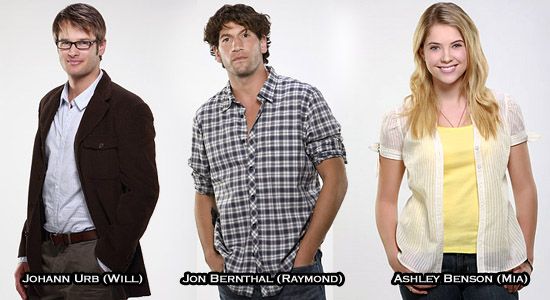 * Johann Urb as Will St. David - He's sweet and perfect and so nice; and it's just lovely having a straight-forward straight-arrow guy. He's the white knight, in a nebbish-y, kinda nerdy way. (Although, he can definitely look outrageously sexy ... as seen by his modeling shots.)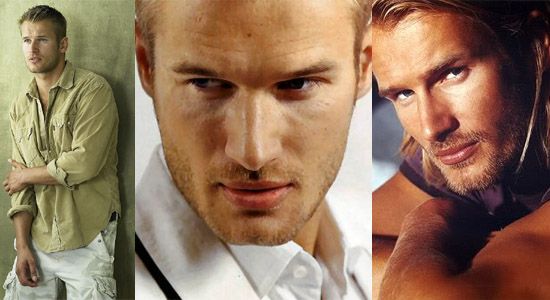 * Jon Bernthal as Raymond Gardener - And he's not. He's a loser and a blowhard, but the intricacies of his relationship with Kat is being played out so beautifully. He's not a villain or a bad guy, he's just a small-town popular in high-school kid who never really grew up despite marriage to his high school sweetheart and five kids. And yeah, he's a jerk and does awful things, but he's not an awful guy and the writing of the character and the acting by Bernthal is just very wonderfully done.

* Ashley Benson as Mia Torcoletti - Roxie's daughter, she's not a huge player, although a near-rape by her boyfriend, led to some major consequences. Still, she's not a stereotype and the moments we're seeing with her -- and her recent connection with her mom's boyfriend's younger brother in the third episode is showing, yet again, how the small-town co-mingles.

So, overall, the characters are deftly, realistically written, there's drama, genuine shocks, humor galore -- of a gentle, real-life type, romance and the beauty of the varied relationships left and right. Yes, there's the magic also, but it's just woven in the background, and we're seeing how it's helping, hindering, but definitely changing who these women are. Also really nice? They're -- all three -- completely three-dimensional characters. Roxie's an artist, mother, lover and friend. Joanna's a reporter, friend and has some bad luck in her love life, and just made a whopper of a mistake in the last episode, but it also brought about a new awakening in her self-confidence, while hurting her potential romance with Will. But it wasn't farcical; it made sense and you felt for all of the characters. Kat is a nurse, mother of five, wife, and friend.

All in all, it's just a darling little show and I'm quite bummed that due to its lack of promotion, lack of press buzz/praise, it will likely be canceled after only thirteen episodes. *Sigh* If you haven't checked it out, do give it a try. It's only four episodes in and it's just positively charming.

ETA: A twitter-friend just sent me a link to an article from Sci-Fi wire that apparently ABC considers the show a quiet little success (admitting they've spent very little on promotion). YAY! Really? ABC calls Eastwick a "quiet success"